Try RBackup Online Backup Software Free for 15 Days on Your Own Computers
This software is used by Service Providers to offer retail online backup services to customers, and by enterprises as an internal backup solution. It stores data on your own equipment or in your own private cloud. We do not provide cloud storage space.



This is our core software used by more than 8,500 customers to provide online backups for more than 2 million end users worldwide.

You can brand it, customize it, and deploy it to live customers. If you decide to purchase the software you can easily activate it without the need to visit your end users.
Your Free Trial Gives You:


Unlimited Backups for up to 50 End Users for 15 days

Priority Technical Support

The Partner's Portal [login here]

The Server Locator Service [info here]

Free Installation

Full Branding & Customization

All Agents: Exchange, SQL, Active Directory, System State, Sharepoint, VSS, Open & Locked Files

3 Client Editions - Personal, Workstation, Server

Two Client Interfaces

This is the our full-version LIVE software. Its only limit is that it will stop running after 15 days.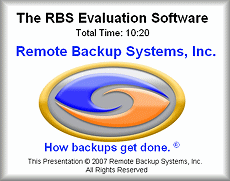 The RBS Evaluation Version is the exact same software that we sell, with all features turned ON. The only difference is that it runs for only 15 days - plenty of time to find out if it will work for your business. And if you decide you like it, we can activate it for you in about 30 seconds without re-installing the Server or the Clients, keeping all your settings and customizations intact. Your customers will experience no service interruptions or changes during activation.
There are no Nag screens on the Client software. Your customers will see no indication at all that you are using the Evaluation Version. The software has full functionality, and can be customized and branded just like the "live" software, because it IS the "live" software.
This download is about 66 megabytes
Please click here before installing the Evaluation Software to view our online movies explaining how to operate the Evaluation Version.
Please Watch the Movies Before Installing
These movies walk you step-by-step through installing the Evaluation software, configuring your RBS Server, testing your RBS Server, and building a Client installer that you can install on any computer. We recommend viewing them before installing the Evaluation software.
Installing and Running the Evaluation Software (10:20)
Install the Evaluation Software
Select files for Backup
Run a Backup
Restore Files
Configuring the RBS Server for the Internet (6:40)
The RBS Manager Properties Screen
Configure the RBS Server for the Internet
Set the Command Port
Set the Data Ports
Using the Online Server Tester (6:40)
Test your RBS Server before Installing Client Software
IP Addresses
Routers and Firewalls
Building an RBackup Client Installer (7:10)
Customize your Client installer
Set up your Client Installer to Operate on the Internet
Create a Client Installer as a Self-Extracting Installer (EXE File)
RBS Client Software Demonstration (20 minutes)
RBS Server Software Demonstration (10 minutes)
Client and Server Software, Full Presentation (30 minutes)
Back Up Your Own Computer! Test the Client-Side Only Using Our RBS Server
See what your customers will see. If you like, you can test the Client side of our award-winning Online Backup software without the trouble of installing an RBS Server. Sign up for a free Trial Account with our live demonstration server.


---
Screen Shots for the RBackup Client (click to enlarge)


---


Screen Shots for the RBackup Server Console Application (click to enlarge)


---


Additional Evaluation Resources

Test drive a live Remote Backup Server online now! - Our live demonstration server is online now. You can log in and see all the screens, run reports and watch backups in progress. Download our Client software and test backups and restores. This is the LIVE software, exactly like you can run on your own hardware. Instructions for the live demonstration server

Watch Recorded Demonstrations - View recorded Webinars and demonstrations.
Webinars (Recommended) | Recorded Demonstrations

Read the Software Documentation - The documentation contains screen shots and in-depth explanations of how the software works. Click Here for Documentation

Live In-Person Demo - We will be happy to show you our software and answer your questions in a live web meeting. Just phone us to set it up.

Remote Evaluation Software Installation - If you would like, we will install the evaluation software for you on your own computer by remote control, then leave it with you to evaluate. Again, just phone our sales department to set it up.