Account Groups
(Administrator's login only)
Note for Multitenancy Feature: If you have purchased the Multitenancy feature, Account Groups will be replaced with Partners, and other features will change. See Multitenancy for more information.
Use the Account Group menu to add and manage account groups. You can group end user accounts for management purposes. The Group Manager might be the IT person at a company with several backup accounts. Grouping end user accounts lets you assign a login to the Group Manager, who can manage his own accounts using the Web Manager PlugIn.

This lists all Account Groups.
Select Edit to edit an Account Group, Delete to Delete it, or Usage to view a User Summary report.
Editing an Account Group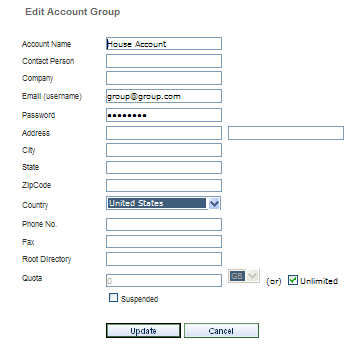 The Email address for the Account Group is also the username used to log into the Web Manager. This is also the email address that will receive email notifications sent to the Account Group Email.
The Root Directory is the fully qualified path (including drive letter) containing the backup data for new users added to this Account Group. Changing the Root Directory after backups have been done by the end users in a group will not move their data. New users will use the new root directory. Existing users will continue to use their current directories.
The Quota is the amount of storage space that will be allocated to each new user in this group. This triggers the Over Quota email notification.
The User Summary Report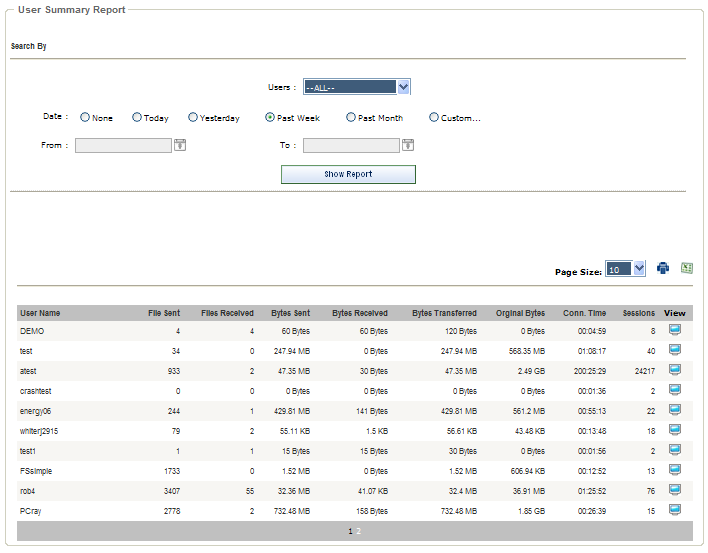 Click the View buttons for more detail on each user.
Deleting Groups
You can delete Account Groups if they have no users. Attempting to delete an account that has users will result in this message:
To delete an account that has users, first delete the individual users or move them to different Account Groups.