[Login to RBackup Virtual Hosting]
RBS Virtual Hosting
Let us worry about the servers while you concentrate on making sales!
RBS Virtual Hosting is an alternative to purchasing your own hardware and software to operate an Online Backup service. You distribute a custom branded version of our industry leading Online Backup Client software to your customers, and they back up to RBS' data centers. You maintain your own customer relationships, determine your own end-user pricing, and distribute software with your own branding.
Virtual Hosting is available for both our RBackup platform (for businesses), and our Mercury platform (for consumers). (A separate Virtual Hosting account is required for each.) What are the differences between our products? Click Here to find out more.
Sell Online Backup services at your own web site. Your customers will be able to sign up for your service, pay, and download their software online, immediately. Your website modifications are as simple as adding a button. You can also sell Online Backup services without a web site, using your Virtual Hosting Portal to add customers.
Grow as fast as you like. Virtual Hosting accounts have access to unlimited Client licenses and unlimited storage space. Add as many clients as you like, whenever you like, with no pre-payment. You will be charged once a month, in arrears, for the total number of Client licenses and total amount of storage space your customers use.
Your Virtual Hosting account comes with a powerful yet simple web-based management portal allowing you to manage your clients online. The built-in software distribution system links seamlessly with your web site through a shopping cart service. This allows your customers to sign up for service at your web site, pay, and download their software immediately. Click here for technical information.
Our Data Centers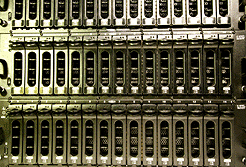 RBS maintains a state-of-the-art data center with Dell servers and 90 terabytes of RAIDed storage space, quickly scalable as needed. Our data center is climate controlled with UPS power and backup generators. We have very tight digital and physical security, 24/7 monitoring, and redundant high-speed connections. Our data center is managed and maintained by RBS technicians, and tested daily for all known vulnerabilities.
Our RBS Servers are hosted on super fast Dell servers. The Server software is always our latest version with all the necessary PlugIns and features, including five types of Email notifications that can be sent automatically to your clients (and to you).
The RBackup Software
The RBackup Client software you distribute to your customers has all the features available in our best high-end software, including support for Servers and Workstations, open files, MS Exchange, SQL Server, System State, and Active Directory. Virtual Hosting client software backs up only local hard drives, so you will need one Client license for each computer.
The Mercury Software
The Mercury Client software has all features turned ON, including the popular Remote Security Suite. Mercury runs on both Windows and Mac.
For a complete side-by-side product comparison, click here.
Virtual Hosting Prices
A one-time startup fee covers the setup of your account and access to online customization tools that allow you to brand your Client software with your own company name, product name, service plans, and dozens of other options.
Monthly usage fees are billed to your credit card in arrears on the 15th of each month, for the number of clients you have and the amount of storage space they are using. Monthly fees are prorated for your clients who have been in service for less than 30 days.
The base fee for client licenses is $1.50 per month per client. RBackup storage space starts at $1.50 per gigabyte and decreases with quantity. Mercury storage space starts at $0.40/GB. The minimum monthly is $100, except for your first month when we waive the minimum fee. During your first month you will be charged only for client licenses and storage space. Click here for further pricing information.
RBS offers lower client license fees and storage fees for higher quantities. Please phone us with your specific needs.
Your Responsibilities
Provide your own end-user technical support. RBS provides tech support for you (the Virtual Hosting Provider), while you provide support for your end users. If you would like RBS to provide support for your end users, please contact us.
Handle your own billing. Unless contracted to do so, RBS does not handle your billing. It's up to you to establish your own billing methods, and your own Merchant Account, if needed. We provide links with PayPal, PayFlow Pro, and authorize.net. We can also collect your money for you and write you a check every month.
Manage your Virtual Hosting Web Portal. From your Web Portal you can change information about your users, suspend and reactivate their accounts, add and delete accounts, and more. You can keep track of your customers' individual storage usage, and the totals for all your customers.
Customize your software. Virtual Hosting Accounts have access to a suite of web-based customization tools, allowing you to change dozens of default features for your software, and to store and distribute multiple client installers.
Advanced Services
By contract, RBS can handle your complete setup, your customer support, end-user tech support, billing, and most other business functions for your Online Backup Service. Contact us to discuss your needs.
Recommended Next Page: Customizing and Branding your Software